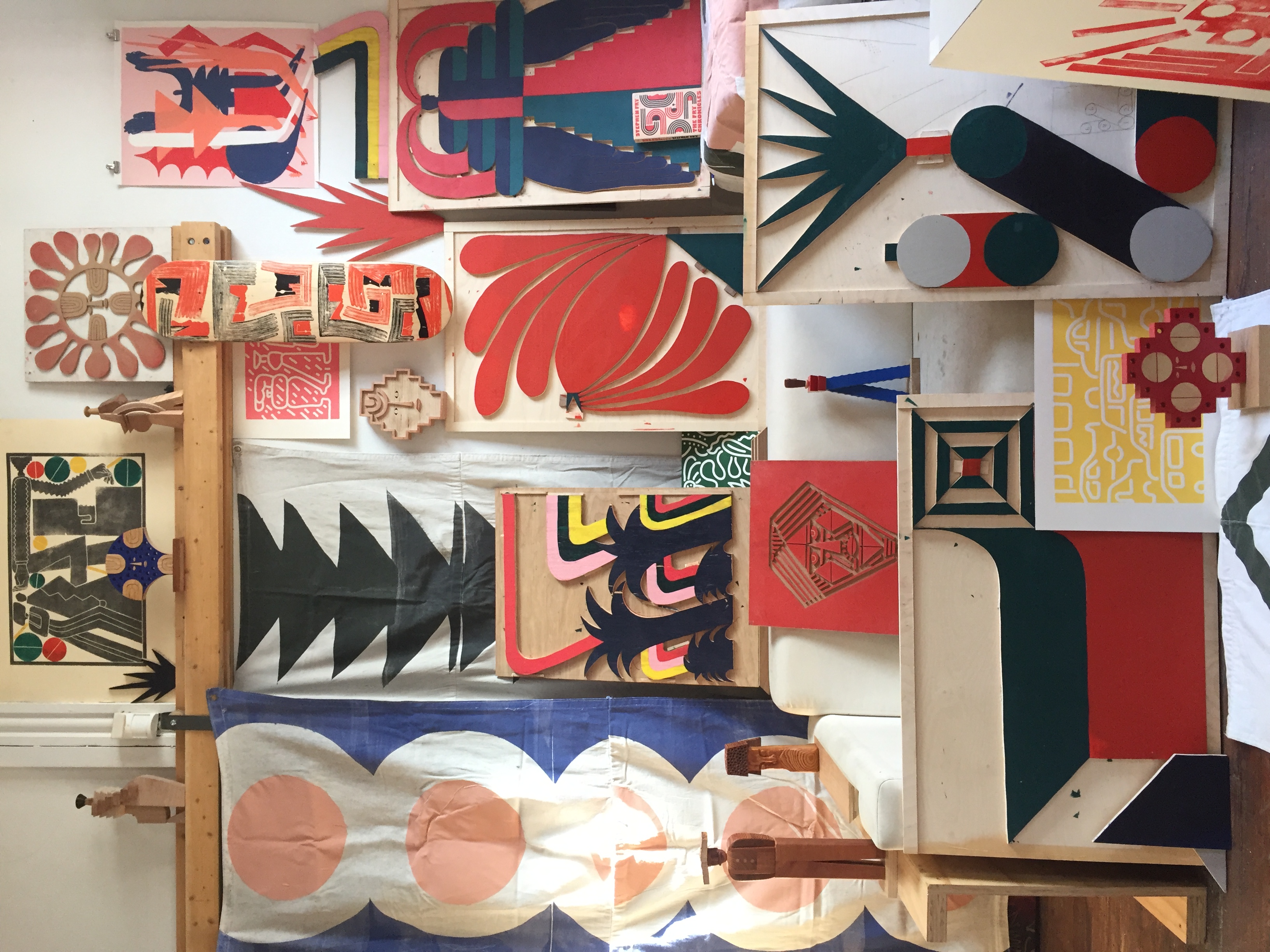 Nate Harris (b. 1991) is a graphic artist currently living and working in Brooklyn, NY. He was a member of Philadelphia's legendary Space 1026 Collective from 2016-2019.
Nate's earliest memories of working with wood are of building skate ramps in his father's garage - cutting stolen 2x4s with a miter saw in his bare feet on hot summer days. After a brief stint in advertising and branding, Nate returned to woodworking by adapting his visual sensibilities to the woodcut printmaking method. He developed his own non-traditional method of creating blocks by using scroll saws, table saws, and drill presses rather than traditional hand gauges. As a result, his blocks are created as puzzle pieces which are often recut and rearranged to live on as new editions and sculptural reliefs. While his work in printmaking may suggest a rudimentary, simplified graphic language, the complexity of his constructions represent both his talents as a craftsman and his understanding of how to convey emotion through color, material and composition. Nate's work is often influenced by process, material exploration, observations of shape and color, repetition, and personal narrative.

As a commercial illustrator, Nate has worked on projects for numerous clients such as the Philadelphia Museum of Art, Target, Warby Parker, and Pelican Books. He employs the same artistic integrity and draftsmanship to his commercial work as his art, thus maintaining a truly discernible graphic language.

In 2023 he launched
NORA:
a small side project which offers one-of-a-kind handmade wooden name puzzles.
---
Contact
For the occasional update, subscribe to my newsletter
Selected Clients
The Philadelphia Museum of Art
West Elm
Sweetgreen
Marriott Hotels
Target
Billabong
Warby Parker
Penguin Books (UK)
Pabst Blue Ribbon
Mural Arts Philadelphia
AEG Live
House of Vans
Saxby's
Brain Magazine (Japan)
Spectrum Skateboards
Exhibitions
2023
A Decade Of The Jaunt Hashimoto Contemporary (group)
2020
Subjects & Objects
The Fairmount House, Philadelphia
with Sharon Harris
TEN
Paradigm Gallery, Philadelphia (Group)

2019
House of Vans
Philadelphia (Group)
Sandbox
De Bouwput, Amsterdam, NL Radiant Spectrum,
Mash Gallery, Los Angeles (Group)
Portrait Machine
The Philadelphia Museum of Art, Philadelphia

2018
Sub Urban
KOP, Antwerp, Belgium (Solo)
Pawn Island
KOP, Antwerp, Belgium (Group)